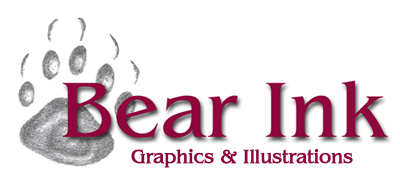 Biography
When Mary was a girl back in Iowa, she knew where she didn't want to be, in Estherville. However, Iowa had helped shape the roots, the foundation of who Mary Rickard is today and it shows in her gentle, solid, and detailed personality that carries through in to the realistic pencil illustrations that are her trademark.
Born in 1968, she was raised to appreciate hard work, nature and life. After too many years in college, two degrees and two internships shifted her life towards the road she now travels, Mary moved to Omaha, Nebraska. There she spent five and a half years employed at the Joslyn Art Museum, and had a little girl named Gabrielle. Gabrielle Marie Rickard wonderfully changed her life completely, Mary had to refocus her goals.
She moved to Rapid City, SD. She started her own company, Bear Ink Graphics and Illustrations in late 2002 to fulfill a need to continue working, educating herself, and remain active within her community. She wanted to create, using a beauty that seems to spring from a well in her soul and flow into her fingertips. Wanting to evolve her life towards something "more", she became a beautiful portrait artist, with her daughter as a faithful, if unknowing subject. Mary has tried, in her portraits, to bring out the essence of each child.
Her goals as an artist were to create works that were based on realism but bare a life of themselves that the viewer would identify with. However, this path split several times and has led to children's portraits in which she has tried to capture a spirit. Through children's illustrations and children's book illustrations, each diversion from realism has been a struggle in patience and self-education and time management.
'I love art, I love to produce art, I can lose myself in it. I've always tried to work or be active in some aspect of the art world. Now I can say "I am an artist" and be very proud. I dreamed of this but never thought it could be possible.'